What will it be, and when can I hear it?
When completed, the Shakespeare Is Documentary Series will be offered free to over 700 public radio stations.
"Shakespeare Is" will be a 10 hour series, produced by Steve Rowland.  Rowland has won two Peabody Awards for previous long-form documentaries: The Miles Davis Radio Project narrated by Danny Glover (8 hours) and Leonard Bernstein: An American Life, narrated by Susan Sarandon (11 hours).   The Shakespeare series is now in production, with over 225 interviews completed, and more to come. At some point it will be offered free of charge to over 700 public radio stations in the US and to stations all over the world as well. At the moment, the project is underfunded and there is no completion date in sight. We have temporarily turned our attention to another project which will make use of our collection of Shakespeare interviews.
This new project is called "Shakespeare Central" and is being developed with the support and guidance of Dominic Dromgoole, Artistic Director of Shakespeare's Globe Theater and internationally recognized as one of the great directors of Shakespeare.
"Shakespeare Central" will be an exciting new service based on an archive of Shakespeare media – books, movies, videos of live performances at theaters like Shakespeare's Globe, The Stratford Ontario Shakespeare Festival, Oregon Shakespeare Festival and many others. This archive will serve as platform to serve the Theaters, the public and classrooms all over the world.
What will be in "Shakespeare Central"?
"Shakespeare Central" will offer educators and the public new ease at accessing Shakespeare media. As the world around us changes, we need new ways to organize, curate, and share media about Shakespeare. Movies, live theater videos and books will be available to students. Take a look at the very early prototype we have built here on our education page with the guidance of master teachers Bob Young and Line Marshall, and with the support of the Dodge Foundation. Our video interviews are being edited, tagged with keywords and are searchable by topic. We still have lots of work to do on this -and hundreds more interview clips to add, but we are very excited about this path and the use of video and audio interviews in a new way.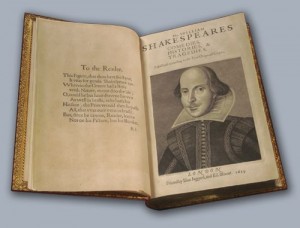 The radio series, when completed, will be a highly produced documentary series that includes interviews with Shakespearean scholars and Shakespearean practitioners, writers actors and directors.  The purpose of the series is to introduce people of all ages to Shakespeare's works – the plots, the characters and the language – to demystify these wonderful tales and help people connect with them and love them.  We will see how Shakespeare lives on now, as our story-tellers will be people who are deeply passionate about Shakespeare — directors, actors, writers, scholars, theater people, film and TV people, politicians, prisoners, school teachers, and more.
The series will be based on extensive interviews conducted by Steve Rowland and also make use of monologues, dialogues, and short scenes from Shakespeare's plays. It will include audio clips of great 20th century theater and film productions.  In the style of our Peabody-award-winning series on Leonard Bernstein, "Shakespeare Is"  will use period documents: deeds, wills, real estate transactions, letters written by writers and scholars over the centuries – all read by actors – to help tell the story.
Why we're telling this story
William Shakespeare's influence on world culture – on literature, on film, theater, on psychology, ethics, even war – is stunning. No book or broadcast series can present even a fraction of the many ideas about Shakespeare.
"Shakespeare Is" will approach the subject in 3 distinct ways:
1) It is a contemporary oral history, with over 100 actors, writers, scholars and directors talking about ways Shakespeare has influenced contemporary story telling. The conversations will include discussions about acting, directing and writing. Not only for the theater – but writing for TV and films too.
2) Production of selected great scenes from the plays, using modern audio methods to create an "aural sense of place" – and compare them with great scenes of past productions, like the ones done for Mercury Radio Theater by Orson Welles.
3) A discussion of Shakespeare and his world – the theater of the time, the politics of the time, the writing of the time – and how, over the course of 400 years, generations of people have studied the texts, watched new productions, adapted the stories into contemporary fables.
While attention will be paid to Shakespeare's time and place, the real focus is on us, and the here and now. What Shakespeare is. How has Shakespeare's work set the stage for modern writers, playwrights and filmmakers? How does Shakespearean acting affect and influence our contemporary actors – and their approaches to other, contemporary, roles that they play?
Through the eyes of dozens of brilliant writers, directors, teachers and actors we will bring to public radio and the American people a contemporary story – seeing Shakespeare not so much as a voice from the past, but, though 400 years old, a voice so clear and so sharp, that it still gives us guidance, leadership and tools for sharing ideas and stories of the human condition.