"For us Shakespeare Is…
One 6-hour public radio documentary
A 10-hour TV documentary
A vast Educational Repository for Educators, Students and the public
With a major offering of On Demand content."
Shakespeare.
The name conjures up images out of history and time. How many people around the world have heard and contemplated the stories, characters and words of Shakespeare? A short list might include the unexpected:
Abraham Lincoln.
Mark Twain.
LeoTolstoy.
Paul Robeson
Leonardo DiCaprio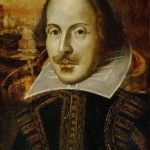 Patrick Stewart
Toni Morrison
Akira Kurosawa
Ousman Sembene
Monty Python
Mos Def
The world of Shakespeare is vast. Perhaps more books have been written about
Shakespeare and his plays, language and characters than any other subject in the world. Nearly every English speaking school in the world teaches Shakespeare, and every year English departments from universities around the world graduate new Shakespeare scholars.
Actors love to perform Shakespeare yet live in fear of performing the Bard's works well, considering it the highest of acting challenges.
Shakepeare's plays are produced all over the world—Africa, Japan, China, India, Europe, as well as here in the United States. Festivals and theater companies dedicating parts of their season Shakespeare abound in every state – from the world famous Oregon Shakespeare Festival to the high-profile Public Theater in New York.
But despite the availability and abundance of Shakespeare, many people avoid exposure to the works. Perhaps it's fear of not understanding the plays or an assumption that it's "old school" and not relevant.
They may not realize that Shakespeare Is…
Drama
Comedy
High Adventure
Bold characters
Imaginative language
A commentary on the past and the present
And life-changing.
The goal of this mega-project is to demystify Shakespeare's works and extend a warm hand to those who want to know the works and the characters and the language, and invite everyone to sit at this beautiful table and relish its treasures.
For us Shakespeare Is…
One 6-hour public radio documentary
A 10-hour TV documentary
A vast Educational Repository for Educators, Students and the public
With a major offering of On Demand content.
All geared toward connecting our interviewers, stories and the people who make up this ambitious project as in Shakespeare's "seven ages of Man" available to you
The listener, student, teacher, performer, artist, writer, and audience member…